Post by Stephanie on May 5, 2020 21:05:47 GMT -5
Hey, I thought I'd start a Food Club board similar to
the Stock Market Alert Board
for those days when the opening odds are good.
For anyone unfamiliar with the game, Food Club is a betting game that runs daily. There are five arenas of four pirates each. One pirate will win in each arena. If a pirate priced at 2:1 wins and you put 1000 NP on him, that means you get 2 x 1000 = 2000 NP. If your pirate is priced at 13:1 and he wins, then you get 13000 NP. You can also mix and match pirates from different arenas such that if all of the pirates in your bet win, then you get, for example, 2:1 x 13:1 = 26:1 = 26000 NP.
You can place a maximum of ten bets per round
HERE
to cover as many possibilities as you can. The betting gates are closed between 1:45pm and 2:15 pm NST, and the results are released after around 3:38pm NST, at which time a new round starts. You can then collect your winnings from the previous round
HERE
. The winnings are kept for a maximum of 8 days, after which they will disappear if you forget to collect.
Some days have bad odds (because of the way the pirates are priced). Those days do not give a guaranteed profit, so if you bet at all, you're essentially gambling. Some days have good odds, meaning, you can make a guaranteed profit if you bet conservatively. Today (May 5 to May 6) is a day with good odds. I thought I'd give a heads-up to people who usually avoid Food Club because they're under the impression that it's a gambling game. (looking at you
Kat
)
Today's opening odds are as follows (credit to Morris (username perduco)):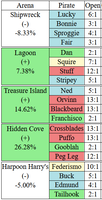 There are 2 ways to make a guaranteed profit from this set of opening odds. One way (for any account age) is to put the maximum amount of NP you're allowed to bet into each bet, and bet like this:
FIRST BET
Shipwreck: Lucky
Lagoon: Dan
Hidden Cove: Gooblah
24:1
SECOND BET
Shipwreck: Bonnie
Lagoon: Dan
Hidden Cove: Gooblah
12:1
THIRD BET
Shipwreck: Sproggie
Lagoon: Dan
Hidden Cove: Gooblah
16:1
FOURTH BET
Shipwreck: Fairfax
Lagoon: Dan
Hidden Cove: Gooblah
12:1
FIFTH BET
Lagoon: Stripey
Hidden Cove: Gooblah
currently 10:1*
SIXTH BET
Lagoon: Squire
Hidden Cove: Gooblah
14:1
SEVENTH BET
Lagoon: Stuff
Hidden Cove: Gooblah
26:1
EIGHTH BET
Hidden Cove: Peg Leg
12:1
NINTH BET
Hidden Cove: Crossblades
13:1
TENTH BET
Hidden Cove: Puffo
13:1
*Odds shift over the course of the day. The 5:1 will likely turn into 6:1 or even 7:1 by the time the betting ends tomorrow, so I anticipate this bet turning into at least 12:1.
As you can see, this set of bets covers literally every possibility that could happen in the three arenas. Each bet is a separate outcome that pays higher than 10:1. So if you win 12:1, for example, and you put 1000 NP into each bet (investing 10K), then you get back 12000 NP and your profit for the day is 2000 NP.
I have another set of bets with guaranteed profit for accounts aged 12 years and older. For those, I use a strategy called arbitrage betting which is adjusting the amount of NP you put into each bet such that every possible outcome is a profit. To learn more, you can view my petpage:
www.neopets.com/~Sunniata
This round will end on Wednesday, May 6, at around 3:38pm NST. Be sure to get your bets in before then!
Please let me know if you have any questions!

Resource for advanced bettors: foodclub.neocities.org/
is a pretty nice bet-generating tool. You can use it to fiddle around with making bets, seeing the potential payouts AND seeing the probabilies of different payouts coming through. (The Neodaq site used to have a similar tool before it went under, rip.)
Even better, the site can automatically generate bets with the maximum total expected return; ie, the mathematically ideal bets that in the long run would get you the maximum possible winnings. This does means that the bets tend to be higher risk than, say, Garet's bets. They tank more than half the time, and sometimes return less than you bet (such as getting 2:10 or 6:10). But if you have a large enough bankroll that you aren't worried about short-term losses, it's a pretty good way to go.
Also it's worth noting that the Max TER bets are calculated based on the NP you stand to earn, not the ratio. This means that it generates a set tailored to your max bet amount, since you can't win more than 1 million NP from a given bet. For example, a five-pirate 160:1 bet will return the maximum 1M NP with a bet of 6250 NP or more. But if your max bet is 12500 or more, you could just as well drop a 2:1 pirate from that bet and get an 80:1 bet that's safer but will still return the 1M. I appreciate that flexibility because I have a pretty high max bet.