Post by Draco on May 12, 2014 2:35:00 GMT -5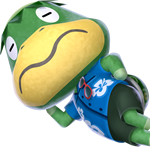 Well, we currently have a person pointedly vying for the King's position xD Hence dem zombies.
All other guilds always ended up with the leader of whoever's-currently-active. That's how Fraze became the Commander and Celestial the Archmage, and I pretty much took up the captain's role because Rider wasn't there and stuff needed doing. (Then Rider came back at one point, saw that I was doing all the stuff, ran a poll over whether she should remain captain or whether I should take over, and won that poll >.> She just up and gave me the position not long after that. We the guilders tend to be pretty reluctant to see change in the established system regardless of what works or doesn't.)
In the end, the king issue doesn't really much matter, because the entire current roleplay has essentially skirted right around it. Frankly I only realized how big a plothole that is when I started the colored summary.
Yeah, that's pretty much how I took over as Ninja leader. Vyt was in charge I think, and I was the only active ninja running around in things. So after a while I just took it.
The problem now is that I'm the only one active in 3 guilds >.>
--
At the moment, I don't like the idea since it's sort of a lame excuse... But I'm going with the idea the Knights saw a oncoming attack for one reason or another (assassin attack, heard of break in of the generals, saw a army, something I haven't fully figured out properly), and got King Kabe the heck out of the castle to safety through secret tunnels. So he's probably, along with most Knights, are hiding out somewhere... Like in a secret mountain stronghold or something.... (and SOMEONE forgot to wake Dragus, or for some reason he doesn't know the plan, or just not talking)
That's what I'm currently going with... Not the greatest plan... But it'll do I guess. But when looking back, it's pretty cowardly for the knights.