Post by Celestial on Jul 21, 2022 15:30:49 GMT -5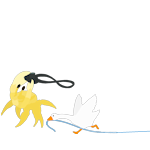 When you close the door behind you, it makes a resounding
clack
that echoes around the great space. Most of the room is swathed in darkness, but ahead, there is a small but ornate desk, at which a stately woman sits beneath a warm light. She calmly sips some tea while going over a thick musical score in her hands, and she looks up brightly when you approach.
"Oh my, hello! I see I have a challenger. You've worked very hard to come to this point, I'm sure." She smiles and proffers a teacup. "Would you care for something to drink? I find that a spot of tea not only soothes the body, but also a nervous composure."
You quietly shake your head.
"No? Very well," the woman says. "I can see you're on a bit of a mission, then, aren't you?" She rises from her seat at the desk, lightly leaning upon an umbrella. Suddenly, a row of lights--
spotlights
--flash on in quick succession all along the length of the room. This place, you realize, is a
stage
. The audience seating may be empty at the moment, but you can nevertheless feel the anticipation and excitement rising in your chest.
"Are you ready?" the woman prompts, her stance comfortable as she pulls a gleaming Pokeball from her coat. "I do hope you're prepared to put on a good show!"
You are challenged by Elite Four Tabitha!
*battle theme INTENSIFIES*
I hope you like it,
Celestial
!! <3 I had a ton of fun picking Pokemon and figuring out a tweaked trainer outfit for her. (Her Mega Stone is on her umbrella. =D)
I hope you approve of the Pokemon team. x3 Please appreciate how excited I got when I found Gossifleur. It's a flower! That rides the wind! That sings! Whose pollen can even be used to make tea??
AAAAAAAAAAAAAAAAAAAAAAAAAAAHHHHHHHHHHHHHHHHH
She is perfect. Every single Pokemon you picked for her is incredible. I especially love Sinistea (I even have a plush of it) and the gossifleur. Gallade and Meloetta are also amazing. Gallade is one of my faves IRL too, along with Gardevoir, so it's wonderful.
THANK YOU! I am honoured to be blessed with Lizica-art.