Post by Fraze on Oct 11, 2012 9:07:21 GMT -5
Flyers have appeared at all of the guild bases...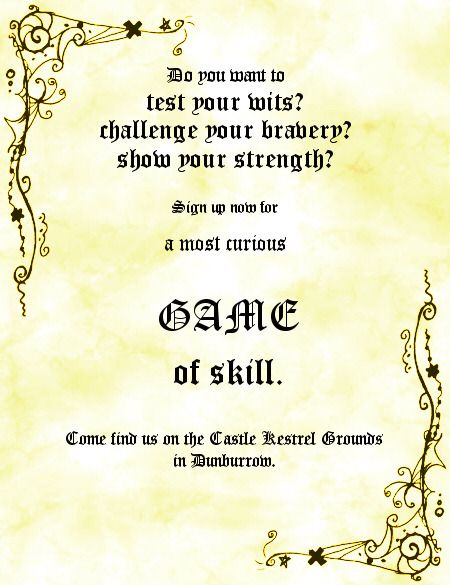 No one saw anyone put them up, but sure enough, a booth has appeared outside of Castle Kestrel. A woman sits at the desk there, with a clipboard and pencil, ready to take applications.
THE SIGNUP SHEET:
Name:
Guild:
The individual(s) or entity(ies) running this game are not to be held liable for any injury or lost or stolen property. By signing here, I agree to use common sense and not file lawsuits for stupid stuff I did myself: ___________ (And signing here is necessary to play the game.)
NOTES:
1) Only one character may join per person. If you have multiple characters, the others will just have to sit this one out.
2) Non-guild members are welcome to join as well, but they are heartily encouraged to join a guild before doing so. To join Spacefleet, please sign up at
this thread
. *Brick'd*
3) The game will consist of several stages, to be explained in greater detail at a later time. People who wish to participate after the game has begun may join at the beginning of the next stage, but cannot join a stage that is currently in progress.
4) The game will begin a week or so after the time of posting, or whenever we get enough participants to kick it off. There is no limit to the number of participants.
List of participants:
Zylaa
Draco
Celestial
Gelquie (GLQ)
Reik (Tamia)
Zephyr (Terra)
Amneiger
Tiger
Jernath (PFA)
Rahu Kattsu (Shade)
Jina
Azzie
Kristy
Ellen (Darkpixie)
STAGE 1 ACHIEVEMENTS:

Who's Afraid of the Big Bad Wolf?
STAGE 2 ACHIEVEMENTS:

Blue Blood

Stop and Smell the Rafflesia

50% of the Ultimate Answer
STAGE 3 ACHIEVEMENTS:

Match Made in Castle

A Musical of Skill
STAGE 4 ACHIEVEMENTS:
Closed Circle Opened
GENERAL ACHIEVEMENTS:

Taking One For the Team

I Have Got to Get Myself One of These
I Sense a Great Disturbance in the Shoutout
Romantic Plot Tumor

Pirate Captain Reference of Choice
Accio Achievement

Jumping the Rails
The Game
You just los--*brick'd*
(And a few more that can't be achieved yet)