Post by Rabbit ♠ on Oct 24, 2020 20:34:31 GMT -5
(Collab between
Rabbit ♠
and
June Scarlet
)
Deep in the Haunted Woods is a tower. Its doorway juts open like a mouth, a pair of windows give the appearance of eyes, a face evilly staring at you. This is Edna's Tower, home to the Green Zafara witch of Neopia.
Seems like a good place to score some candy, you figure
On the path there, however, you happen across two Neopets.
"Oh this is just so awful..." says one, a Rainbow Cybunny.
"I know. I can't believe she changed things up this year," says the other, a Christmas Zafara.
Curious, you ask what's wrong.
"Kayaini and I thought we were going to Edna's for an easy Halloween quest," said the Cybunny, who looks to be in her preteens.
"We were just expecting her to give out items as per usual. We have items. But instead, she's asking for the most unusual things," continued the Zafara. She looks older, perhaps in her late teens? "Maybe Edna got bored of the usual stuff."
Like what, you wonder.
"The person ahead of us was only asked to draw a Mortog. But we were stuck with three things to do instead."
"It's a bit much for Jill and I to handle in the time limit, and she always gets so mad when 'pets don't come through. You know how she can get."
They both turn to you.
"Hey, here's an idea," says Jill, the Cybunny. "Between the three of us, we can each take a task. You are welcome to choose first out of the three options, because you're doing us a favor."
The Zafara, who you assume is Kayaini, follows with, "And as thanks, we can give you one of the items we had saved up for Edna."
"So, what do you say?"
(You will be given three prompts to choose from. Some are roleplaying prompts, like kiss a Mortog. Some are prompts of things you must do, like write a poem about a Mortog. For bonus points, you can even do both; roleplay yourself writing about Mortogs, and actually write about them.
Note: Not all prompts will be about Mortogs. Probably.
Your questers are:
Kayaini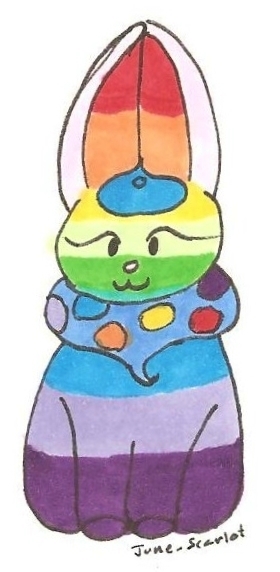 Jill
We can't actually hand out any Neopets items, due to the site rules. But you will get a link to an item we think suits you, should you accept this quest. Who knows, you might get an extra little treat at the end...)