Post by Kaljinyu on Feb 16, 2017 6:40:51 GMT -5
Hey, my brother doesn't have an account here, but he sent me to get feedback on this article he's trying to submit. From our experience, an article is usually rejected late into the week closer to when the Times is about to go up. Maybe we're wrong. But whatever the case, this article is almost immediately rejected. It's always rejected same day, and within, like, 2 hours of it being submitted. So there must be something wrong with it. So we're taking it to the lab to see if we can get it Times ready.
It's basically one of those "listicle" articles, except a little longer, dabbling in the various critiques and complaints about the state of content on Neopets and getting things back to standard. This isn't the original article, as my brother makes revisions and updates to it every time it's rejected so that it's current to the period in time that it's submitted to. It starts below the line here...
EDIT:
Someone over at Neopets Subreddit wanted to see this, and this is too many characters, I think, for a Reddit post. So I'm editing this to show the revised version. Because he revises it every week to throw in new stuff/remove old stuff.
---
Research courtesy of The Plotters. "A History Of Famous Tonu" used with permission from Alyseth.
It's been an intriguing 5 and a half months so far in 2017. We voted for a new Paint Brush and got two instead. A surprise Community Hall Charity Corner in February, much to the chagrin of many and the jubilation of many others who lucked out on the right investments. The return of a Round Robin structure for Altador Cup 12, much to the jublilation of many and the chagrin of many others whose teams are historically disadvantaged. And the looming promise of something called the "Forgotten Graveyard." But all these surprises beg a central question: Is this the year Neopets "comes back?" There's talk that 2017 will have a lot to talk about, and the hope is that this means Neopia gets its groove back. Because for the past 2 or 3 years now, for a lot of Neopians, Neopia has been noticeably lacking in groove. And it's not just that things are different. Different isn't bad, different can be very good. No, something feels like it's missing. That the old days had that the current days don't have. It's tough for these Neopians to put their fingers on what spark they seem to have lost. I'm sure it's Jumpstaff's Priority #1 to keep Neopets relevant and exciting for everyone, and thus figure out what it is that people are looking for. I thought I'd take a crack at it myself by breaking down the public opinion in general into 4 categories, as per my most recent investigations.
* * * * *
1. Shortage Of Daily Content.
The New Features page
could be considered the front page of Neopets. Moreso than the actual
front page.
Because that's where we get the full story of what's going on in Neopia at the time. But it hasn't been the main attraction that it used to be. With players saying things like
"I used to love looking at the news but now it's really boring"
and
"The news posts are just... done really lazily and in general, poorly"
it's clear that something's not just different, but missing. Maybe it's the way it's written. In the past, a noticeable amount of personality and creative effort went into how the news was reported. Have you noticed that Jumpstaff's Customisation models don't have dialogue? That was a hallmark of the TNT of old. Take the week of
June 25th, 2012.
See how the models for the Puddle of Mercury Foreground, Moltaran Workshop Background, Brass Gears Border, and the two Acara outfits we got that week all have the little comments underneath? Not to be seen with Jumpstaff since March 2015. The New Features page also made a point to keep us apprised of current events and developments. So that if something was going on, we were reminded that something was going on. Like how when an event is going on, say, the Festival of Neggs, they would update us on it multiple times as it went on. See
the week of April 10th, 2012
as an example. To compare, the 2017 Daily Dare was only mentioned
when it started
and
when it was coming to an end.
As an event it didn't have much promotion and thus not much presence. And that makes the news day look slow. Like nothing's going on. Or that Paint Brush poll mentioned earlier. It ended on February 21st, 2017. But we didn't hear about it again until
February 24th.
The TNT of old would've announced something on the first news day after the poll closed. Something to the effect of "The polls are closed, our winner is Candy, stay tuned for when we launch the color." This suggests a rudimentary and formulaic approach to the New Features on Jumpstaff's part. Only posting the bare minimum of what needs to be posted.
Or maybe it's that there's not much nowadays to post about. At the top of the year, typically we would've kicked things off with the
Neopies,
an event dedicated to reflecting upon the highlights of the year prior, learning what kind of content is popular with Neopians, and what kind of content is... less popular. But as it stands today we don't get enough content in a year to fill out the usual categories. Categories like Best New Petpet or Best New Avatar, these categories call for at least 4 nominees per. And once upon a time we would get four new Petpet species or four new avatars or four new NC Mall Mystery Capsules or four new Caption Images, at least, within a year. This has been a contributing factor to how slow things feel nowadays against how comparatively "alive" and "busy" things used to be. A chief complaint among Neopians today? "Is anything new ever going to happen ever? There needs to be something to do. Nothing's going on. Nothing to look forward to." And with 200+ games listed in the Games Room you might think just playing games would entertain. But what Neopians want is New Features. If you find yourself curious, just look back through the New Features at one of the years prior to 2014. Or even a single day. And see what a normal day's activity would look like. Or a normal week. How much more was going on.
To put it into figures, in addition to the annual events we got, on average we got two new non-annual events per year. Since 2015 we've had none. Plots, and to a lesser extent events, are the feature presentations of Neopia. They provide players meaningful ways to interact with one another, which is a crucial aspect of any good massively multiplayer experience. But not only do they keep people occupied while they're going on, but the stories they tell and the characters, lands, and lore they establish set the stage for future content. Games, dailies, items, future plots that are connected to story hooks set up by the earlier plot, and et cetera. Just look at what Champions of Meridell or Tale of Woe brought us. Also, a good plot is like a good movie or a good season finale. Once it ends, we're still gonna be spending our time with fevered speculation and discussion and fan works on what we hope to see in the future. This, as well as enjoying the new content that spins out of the ongoing developments in Neopia, these are the things that keep people occupied until the next cool plot or event. These are the "somethings to do" that we've been lacking as of recent.
Then there's the weekly Contests & Spotlights. Updating these is a majority part of keeping the New Features page from looking bare. A staple of the week's diet. The New Features just aren't the same without at least one Caption Contest image a week. A lot of these have been making a comeback recently. No word on WHY they were gone in the first place though, but as of the writing we still need the Site Spotlight, Neohome Spotlight, Kreludor Caves Spotlight, and of course the Caption Contest. Unfortunately, in the Editorial of
Issue #768
of the Neopian Times, Country Queen says that some or all of the remainder of these Contests/Spotlights they might just cancel. And they gave no word on WHY they wouldn't be able to bring these back. In addition to bringing back the Contests & Spotlights they haven't brought back yet, there's also the matter of updating the web assets for those Contests & Spotlights. If you'll check out
Community Central
, you'll find that the "Latest Spotlight Winner" section is still showing the spotlight winners from 2015. Even for Contests/Spotlights that Jumpstaff has brought back. So they'll bring back the Beauty Contest and 'Pet Spotlight and so on, but for some reason keeping the Community Central page up to date isn't feasible.
Speaking of keeping the New Features from looking bare, another good metric for content is items. Because items are tied to just about all the content. Getting less items is unfortunate on its own, but less items means less/shorter events. If we get less items, that's also a byproduct of having less events that give us those items. If we have no plot, we got no plot-derived wearables. Because we had no Masks of Dread, we got no Masks of Dread wearables. And so on. So it's all tied together. And one of the most noticeable things about this day and age is how few items we get compared to past years. As of the last time things were stable before content slowed down, a normal news day typically brought us 4 new Neopoint items. Sometimes more on the many days they would have a random theme or a spur of the moment occasion. Like
ANGRY PICNIC DAY.
'Pet days? Two new colours, two new items, and two new full outfits. At the writing, we've gone down to only 1 item on a normal day, and 2 'pet colours, 1 'pet outfit, and no other items on a 'pet day. Neocash items, for better or worse, have taken one of the strongest hits. We used to get Mystery Capsules, as well as Superpacks, Costume Packs, Holiday Grams/Snowglobes, Snowballs from the Advent Calendar, new treasures from Grave Danger, and regular updates to Neocash games, including one new Neocash game added per year. In 2011 we got Blumaroll and Wonderclaw. In 2012 we got Secret Meepit 'Stache. In 2013 we got Shenanigifts. And in 2014 we got Patapult. And that's where it stopped.
Most of the items we got were wearables. Due to them being both popular, and among the most resource intensive. So they took a lot of priority. One wearable item is worth, in man hours, several several of any other non-wearable item. But after 2014, and then March 2015, we got less items overall. Here's a breakdown of all the items we got in a year, from normal news days to times when we got some kind of event with item prizes. Starting with three of the last stable years before content slowed down.


2011
-----

NC Items: 1,253
Non-NC Wearables: 826
Non-Wearables: 1,023
Total: 3,102



2012
-----

NC Items: 1,256
Non-NC Wearables: 811
Non-Wearables: 973
Total: 3,040



2013
-----

NC Items: 1,272
Non-NC Wearables: 832
Non-Wearables: 1,099
Total: 3,203

Notice how the count stays roughly around 3000+ items? This changes in 2014, when after the first quarter of the year they announce that they have to temporarily curtail content.


2014
-----

NC Items: 1,358
Non-NC Wearables: 499
Non-Wearables: 658
Total: 2,515

But then in 2015 and 2016, things only got worse.


2015
-----

NC Items: 688
Non-NC Wearables: 301
Non-Wearables: 600
Total: 1,589



2016
-----

NC Items: 391
Non-NC Wearables: 480
Non-Wearables: 485
Total: 1,356

It would be something entirely different the distribution of "man hours" was the same. For instance, if because wearables were too resource intensive and they cut down on wearables, we lose wearables but we gain something else. Those resources aren't lost, they're just put elsewhere. We get less wearables in a year, as long as that translates to more of something else, like, say more non-wearables, or more of something, anything. The base amount of content work would still be being done. But these numbers are low across the board. Less wearables than usual didn't equate to more than usual of anything. Everything took a cut. Across the board. Less resources in general.
Talk about events dedicated to reflecting on the year, you know what else typically involves some reflection on the year? Winter Starlight's the Advent Calendar. I'm not saying it's a rule or anything, but it was a trend of the direction of past Calendars to be in tune with its time, to have at least some scenes that were inspired by what's relevant at the time. The... zeitgeist, I guess? Which is determined by the art, music, and general content we get. Like 2002 including mention of the recently introduced
Meridell
, the
Jhudora and Illusen rivalry
, and the introduction of both
Baby 'pets and the Tax Beast.
Or the continued novelty of
Meridell
in 2003 as the Great War came to a close. Those new
Petpetpets
that were making a splash. Or the
Volcano Plot.
In 2004
Quiguki
was gaining more popularity, and the
Battle for Meridell
and
Hannah and the Ice Caves
plots had left an impression. We had the new
Petpetsitter
and
Snowmuncher
games, and not
one
but
two relief concerts
hinting at the coming of a plot in 2005.
That plot? 2005's
Curse of Maraqua
. But 2005 also had
the Lost Desert Plot
and the introduction of some kind of
Darkest Faerie
. As well as the introduction of the new 'pets
the Xweetok and the Ogrin.
2006 had the
July Snow Day,
the
Altador Mini-Plot,
Cyodrake's Gaze
and the introduction of Shenkuu, and
Tale of Woe
which introduced Neovia.
2007 included things like
Journey to the Lost Isle,
the introduction of
Neovision,
the new
Shenkuu River Rush
game, and
The Last Blast.
2007 even referenced the unusual frequence of
glitches and downtime that year.
But things did get better in 2008, which included such notable events like the
Return of Dr. Sloth
, the introduction of
Key Quest,
a
Daily Dare
brought to us by Neovision, featuring the re-introduction of Roothless and his henchpet Scram, and an
Altador Cup
where Kiko Lake was delayed in arriving due to a landslide.
2009 featured the
Atlas of the Ancients
plot, as well as several new games like
Petpet Plunge,
The Haunted Shootery,
Top Chop,
Barf Boat,
Shenkuu Tangram,
and the return of the slot machine games, along with updated art, like
Black Pawkeet Slots.
And there was also the
Neoplants
decoy prank from April Fool's 2009.
2010 brought us The Faeries' Ruin, which was still going on at the time of
this Nox Memoriam scene's release.
There was also the
Save The Wheels
wheel revamp, new Paint Brushes like the
Woodland Paint Brush,
and new games like
Hannah and the Kreludor Caves,
Neopian Battlefield Legends,
Ugga Drop,
and a new NC Mall game in
Jubjub Power Bounce.
2011 included reference to the Krawken attack and the refounding of Krawk Island under Governor Gavril McGill, the ongoing effort to rebuild Faerieland after the Ruin, the redesigns done to the Daily Dare with its new, formal and fancy aesthetic differentiating it from from the Games Master Challenge, the Scourgies prank from April Fool's 2011, the new 8-Bit colour, the introduction of games like S.M.E.L.T., Habitarium, and Bigbsy Shadington's Wonderclaw in the NC Mall. As well as the introduction of the Snowager's hibernation in that very Winter Starlight Celebration that happened that year. I would link to the Advent Calendar scenes that are inspired by these, but as of writing
all of the 2011 Advent Calendar scenes are broken.
2012 brought us the
2012 Daily Dare
and its Purple Bug Invasion and redesigns of Roo Island and King Roo. There was the
Festival of Neggs/Mysterious Negg Journey,
which featured the envious "Real Negg Faerie", an orange Yurble who was angry at Kari and all Faeriekind that he couldn't have Zaira's job. There was
Malkus Vile's Neomail scam
from April Fool's 2012,
Pirates vs. Ninjas
from the 2012 Games Master Challenge, new games like
Assignment 53
and
Secret Meepit 'Stache
in the NC Mall, a new color in
Elderly,
and the introduction of an Angelpuss named
Plumpy
in the Lenny Conundrum's "Continuing Conundrums of Plumpy, the Angelpuss."
2013 had the
Obelisk War
and the introduction of its
factions,
the
Spooky Food Eating Contest
and the ensuing monster hunt,
Sun vs. Moon
from the 2013 Games Master Challenge, and a new NC Mall game,
Shenanigifts.
And 2014 made note of the
Random Event Event,
the
Pound Director Poll
from April Fool's 2014, new games like
Coal War Tactics,
and not one but two new Kiko Lake features in
Pakiko
and the new
Kiko Pop
daily. There was also the introduction of
Dyeworks,
and the introduction of a brand new Neopet: the
Vandagyre.
But 2015 and 2016 didn't seem to harken back to anything. Maybe because not much happened? Is a calendar without reference to relevant themes a reflection on a quiet year? Nothing to do, thus nothing to talk about, thus nothing new becoming iconic or popular or notable so far? Or maybe they just wanted to take the Advent Calendar in a different direction. Jumpstaff could've maybe referenced Trudy's Surprise, or Topsi, or AAA's Revenge, or whatever Topsi did with Zaira, or even Granny Hopbobbin. But they didn't. Maybe it was an artistic choice. The Advent Calendar, through 2014, was very "of its time." Maybe Jumpstaff wanted something more "timeless" and generally relevant. Maybe people wanted to see something else, like the return of their favorite characters that hadn't really been relevant enough in the modern age to get an Advent Calendar scene. Like I said, it's not a rule. But it is something done because people like to reflect upon their favorite characters and things throughout the year. And as far as fan favorite things, I don't know how many there were in 2015 and 2016. Regardless, less did happen in these years and it did affect things. Fortunately, Jumpstaff does hope to fix this according to the Editorial of
Issue #774
of the Neopian Times. Country Queen says they are working on new events for us and that we should stay tuuuuuned. For example, some kind of "Forgotten Graveyard" has been forecast to be on the way soon. Sounds like something to look forward to. And we've started to see things like Mystery Capsules and Superpacks again too. With the release of things like the Winter Faerie Mystery Capsule and the Spring Princess Mini Pack. Maybe not with the same frequency as we used to, but Jumpstaff seems aware of the issue.
At present, the timeline of the year has been mighty empty, by the count of a lot of Neopians. And each news day seems to be just going through the motions. When you look at this and see that a key difference is lack of new content, maybe that's the thing to work on. Yes, big site events, please and thank you, but new content in general. We need to do something about these slow news days. And a good place to start is looking back through the New Features and the Editorials and any other archives you can find at a "good" year. To see what went into that year to make it good.
* * * * *
2. Bugs/Features:
There's a sort of joke in the development community: "It's not a bug, it's a feature." It basically means that what you think might be a mistake or a glitch? It might be something done
on purpose
that just hasn't been documented yet. There are a few bugs nowadays that are very clearly mistakes, Like right here in the Neopian Times. Submissions from various authors appear out of order on their submissions pages, all of the comics in
Issue #756
are missing, and the articles on the front pages of Issues
#759,
#760,
#761,
#762,
and
#763
are all, at the time of writing, linking to an article from Issue #153.
But what about this? There's an issue a lot of Neopians have with the filter used for Neoboards, Neomail, petpages, and so on. The filter is there to restrict topics and so-on that aren't Neopia-appropriate. But recently the filter has changed to the point where you can't even say Neopia-appropriate words anymore. Normal, good Neopians cannot say "grapes" or "seaweed" (just to name a few). A lot of people thought this was a glitch. Because the filter wasn't like this before. Up until recently, the filter was able to block inappropriate words while allowing innocent words. And then it was revealed that this is not a glitch. This was done on purpose for what the Support Team cites as "security reasons."
So now we have to look at all of the other hiccups and curiosities we see nowadays and ask "Is that different on purpose? Has Jumpstaff consciously elected to do this?" I've said before, different isn't inherently wrong. But it's about what those differences mean. And if those differences make problems for people. Differences like how some custom thumbnails in the Times haven't been saved locally and are being linked inline from that author's image host. Is that on purpose? Because if a reader has problems with that image host, they won't be able to see the image being used. Speaking of comics, there are differences like how the guidelines for comic submissions stipulate a Maximum Image Width of 470 pixels. But several comics so far have been accepted into the Times that break this rule, as well as the margins of the page they're on. Does this rule no longer apply? Another issue that tickets have been sent for, the
Old News archive
is missing at least one week. The week of
April 3rd, 2017.
Tickets submitted on this have been marked "Solution Suggested" with no further action taken. So is this week not meant to be in the archive? Because it's not on that page.
There's differences like how items sold in certain shops used to adhere to certain themes/aesthetics, but don't always do that anymore. Like with the
Seed Pod Boat
and the
Persicot.


The Seed Pod Boat seemed to be in theme with Tiki Tack items, and the Persicot seemed to be in theme with Brightvale Fruits. The New Features post for
12th/13th September 2015
even says these are the categories they're meant to have respectively. But they don't actually restock in Tiki Tack or Brightvale Fruits. They seem to be miscategorized, with the Seed Pod Boat restocking in the regular Toy shop, and the Persicot restocking in the regular Food shop. Check their Item Lookup pages and you'll see. Tickets have been sent in regard, but after over a year the categories still stand. So is this on purpose?
How about the
Curried Mussels
and the
Shrimp Kebab?
Two tropically styled foods, you'd think they'd go under Tropical Foods.


But again, check their Item Lookup pages, you'll see they were put under Medieval Foods. And it seems like it was done on purpose. But the Curried Mussels are described as
"Mussels cooked in a delicious coconut gravy."
The coconut is tropical. Like from Mystery Island. Meridell is a temperate zone. So how did the gravy get there? Did the coconuts migrate? I'm not saying it's impossible for the knight or the farmer to enjoy mussels au coconut, but gameplaywise food items styled like this, seafoods and such, go in Tropical Foods or some place in that area. We typically don't assign categories randomly. The same could be said of Jumpstaff's classifying of Booktastic Books. You might understand Booktastic Books to be the Kreludan-style books, which are usually futuristic or spacey in theme or design. It might be a tablet computer like
Attack On Kreludor,
or a regular paper book that's about a spacey/futuristic/sciency thing like
Astrophysics for Beginners.
But since 2015 Jumpstaff has fallen out of theme with Booktastic Books. Getting books like
Scoops of Friendship on the Run,
10,001 Chocolate Cake Recipes,
the
Usukicon Y17 Diary,
101 Tyrannian Omelettes,
and the
Avocado Cookbook.





Another item category that Jumpstaff doesn't seem to understand/handle in the typical way is Exotic Foods. Most people know Exotic Foods to be the category for Shenkuuvian-themed food. Like how Medieval Foods is supposed to be for Meridellian/medieval-themed foods. But lately we've been getting items like
Yellocious Berry
and
Cherry Puff.
Or
Gold Leaf Creambowl.
Or
Spiced Nuts
and
Kale Chips.





Shenkuu-themed food items are supposed to be traditionally Asian in theme. Or in some way inspired by that. Like
Steamed Fish
or
Cabbage Momo.
But these other five examples, are these all traditionally Asian inspired? Or does Jumpstaff not understand what the Exotic Foods category is typically for? On the one hand, Jumpstaff released
Pandaphant Sushi
to Exotic Foods. Sushi. Okay, that fits the theme. So you'd think Jumpstaff understood what the Exotic Foods category was going for. But on
March 30th, 2017,
the day they released the Kale Chips and Spiced Nuts, they said
"Where the items from the Exotic Foods Shop actually come from are beyond us."
Do they think the Exotic Foods category is for food items that are "exotic" in general? Because we know where they're supposed to come from. Shenkuu. Or maybe they got the idea that Exotic Foods are from some unplaceable mystery land from Orrin's quote at the shop:
"Where did I get this stuff? Erm... you'll have to talk to the Captain about that."
If so, Jumpstaff should know that that quote is out of context. That quote is a holdover from the Cyodrake's Gaze plot before Shenkuu was released as a land. That's why Orrin said that. Because Shenkuu was as-of-then undiscovered. Once Shenkuu was discovered, the quote no longer applies. It's just TNT never changed it because we all understood its purpose and there was no need for so frivolous a change. Unless that quote starts confusing people into thinking that Shenkuu foods are from some mystery kingdom, which they aren't. They're from Shenkuu. And should be Shenkuu-themed. But does Jumpstaff understand that?
There's also several items released around August 2016 whose names aren't capitalized as normal. For instance, Usukicon Y18 Goodie Bag will give you items like the
Clown usuki
or the
Happy Usuki pin.
I can't link to them because they're R101, but I can link to items like the
Woodland flotsam plushie
, the
Water korbat plushie
,
Go glow
,
Colored tips
, and the
Kacheek Night lamp.
Not gamebreaking, but not the best attention to detail. Ordinarily things are more covered than this. I'd like to say Jumpstaff has kept this covered since then, but with the release of the
"Ball gown Koi Wig"
with a lower case "G," it seems they're still letting things slip.
In other funniness around August 2016, there were new weapons in Maractite Marvels, the
Grudge Keeper
and the
Deadly Snail Brooch.


Usually Maractite Marvels are made of maractite, which is a blue, runic metal.


But not these. A deliberate decision? Or the
Bright Red Grundo Dress
, depicted here.

Isn't that a shirt, jacket, and pants? Not a dress? Does "dress" mean something different in this context? Or how about these
Paper Wreslers?

Isn't "wrestlers" spelled with a T? And aren't those humans? I thought there were no humans in Neopia. Not the case anymore? Was this done on purpose? Humans in Neopia are fine, it's just we didn't see it established up until this point, so we don't know if this is a mistake or not.
Differences like how the Daily Puzzle, which once was updated daily, will sometimes go days without update. Or differences like the "curriculum" that the Daily Puzzle is based on nowadays. It used to be that the Daily Puzzle would involve trivia that can be figured out and verified using clues that can be found on Neopets.com, at least at the time of that day's Daily Puzzle. But lately that hasn't been the case. Lately the Puzzles seem to be derived from information found elsewhere. Take for instance the Daily Puzzle from March 15th, 2017.


***

Who among these Scorchios doesn't like Lady Caitriona?

Lab Ray Scientist
Lord Edric
Lord Darius
Torchio

***


The answer is
Lord Edric.
But there is no Lord Edric on Neopets.com. There is no Lady Caitriona on Neopets.com. There's nothing on Neopets.com you can look up that would tell you this. They're not in any plots, they're not in any Neopedia articles, they aren't mentioned in any item descriptions or games or dailes or anything. They are not on Neopets.com. They come from the video game,
"Neopets: The Darkest Faerie."
And that's the only place they're mentioned besides Fan Sites. You cannot play Neopets: The Darkest Faerie on Neopets.com. And so we have to wonder, did Jumpstaff not know that? Did they release this Daily Puzzle, and others like it, thinking it was trivia about the site history but not knowing where it actually came from? Not knowing that Lady Caitriona and Lord Edric and so on aren't actually part of the site history? Because they don't actually know the site history and only have Fan Sites and such as resources to lean on? Or did they know it wasn't part of the site history, and expect us to check Fan Sites for this? Because Fan Sites, while major accomplishments, are not always accurate to canon, nor is it their obligation to be. As fans, a lot of what we say is based on speculation. And to take that speculation as fact is a mistake. Jumpstaff is the one that's supposed to know this stuff, not the other way around. Case in point, the Daily Puzzle from December 24th, 2016.


***

Which land is the Pant Devil's Evil Twin from?

Altador
Neopia Central
Brightvale
Meridell

***


The answer was
Neopia Central.
But again, it doesn't actually say that anywhere on the site. It doesn't actually say that anywhere except on a Fan Site, Jellyneo. And their Book of Ages. Jumpstaff seems to put a lot of credibility into Fan Sites. Maybe that's why they used the Altador Cup team fan names that The Daily Neopets and Sunnyneo came up with as official team names in the Pre-Tournament Press for the Altador Cup. But the team fan names and Pant Devil's Evil Twin, these aren't established fact. Not yet. They came entirely from the minds of fans. If Jumpstaff is expecting us to look things up on Fan Sites and so now they're part of the curriculum, fine. And it's also not unheard of for the Neopets staff to check things on Fan Sites if they maybe need a refresher on the canon. But they can't rely on it too heavily, because it's still their job to know the lore. Checking your work is fine, but they need to know enough about the lore that they can separate established fact from fan speculation. Because Pant Devil's Evil Twin being from Neopia Central, that's fan canon. An educated guess. The actual answer to that Daily Puzzle should've been
"Insufficient information. It hasn't been established yet."
But Jumpstaff seems to be leaning too heavily on the cheat sheet and passing it off for experience.
Interestingly though, as of May 17th, 2017, right in the middle of the Press Tour for Altador Cup 12, they retracted all use of the names that came from The Daily Neopets and Sunnyneo. So did Jumpstaff finally catch on?
Speaking of the canon, there's differences like Razul appearing at the 2016 Games Master Challenge.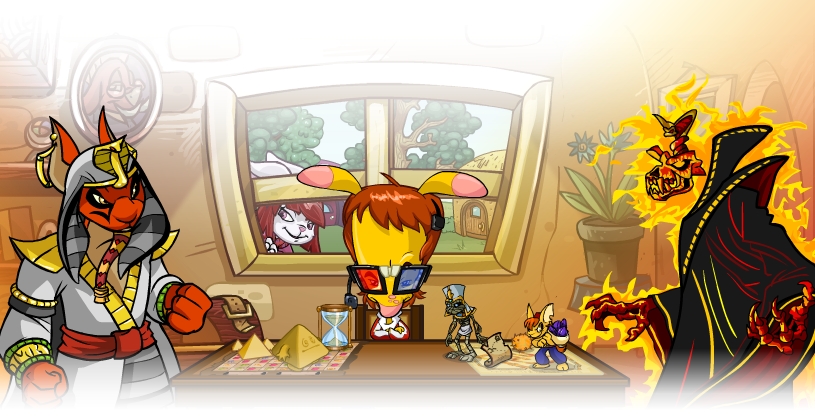 But if you go by Jazan's Neopedia
article,
as well as the
plot
this adventure took place in, Razul appears to have been definitely destroyed. That's why the curse is broken. The curse and Razul's immortal life were tied, and so
"with the defeat of Razul, the curse was lifted from the people of Qasala, with the exception of Jazan's friend, the Nightsteed."
That's a quote from the Neopedia. So what's the explanation for this? Neopia is a world full of possibility, a lot of things might have happened. MIGHT have happened. Something might've revived Razul. There might've been a loophole we overlooked back in 2005. So it's fine if Razul comes back, it's just that there needs to be an explanation that makes sense and isn't out of nowhere. Or how about during BTY #714, where Gorix and Parlax were described to be allies? They teamed up to rescue a mutual friend, the dialogue being
"That's one of us out there, and we never leave a man behind, do we? Now get out there and help get our boy home!"
Again, if you went by the
Neopedia
and the relevant
plot resources,
you would get the understanding that Gorix and Parlax are no longer friends. They're enemies now, and Parlax is currently missing in action. Has this changed? Did they at some point reunite, make friends again, and work together on a mission to save a random Grundo who was Lost in Space Fungus? Because that's fine if that's what happened, but as far as we know we haven't seen that established anywhere. So why did that BTY say that? Another example, though not as glaring, is how in the news for
Jubjub Day 2015
they released a Purple Jubjub Morphing Potion, and with its release said that Fyora's favorite color was purple. Not too big a deal to claim in passing conversation, but again, if you go by the
Neopedia article
, or even the TCG card "Fyora's Blessing" you would learn that not only is Fyora's favorite color
pink
, but it's a sore spot for her when people call it purple.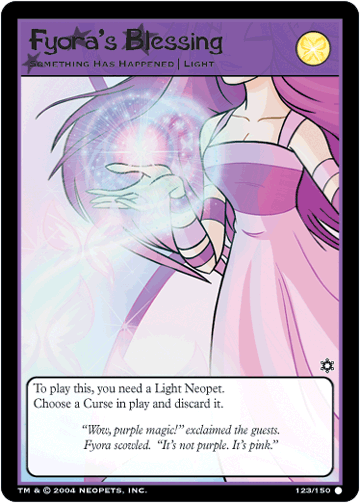 If you know about Fyora as a content/creative team should, you should know her character traits, like how she loves pink and doesn't like it being called purple. Jumpstaff was even corrected about this in the Editorial of
Issue #685
of the Neopian Times, but instead of saying it was a mistake, like with the filter difficulties, they said it was on purpose.
"Both of course!"
Country Queen said.
"Fyora considers her life far too colourful to choose only one!"
Country Queen said. This has never been established before, but apparently Jumpstaff is establishing it now. And yet, if this isn't a mistake for some weird reason they're backing off of it, with this year's release of the
Fyora Keychain,
the description reading
"Its pink, not purple. Fyora would approve of this."
As if to say "Okay NOW we're saying Fyora's favorite color ISN'T purple. It's pink." I guess it's understandable though, according to that TCG card, it's an easy shade of pink to confuse, even within Fyora's social circle. Honest mistake.
There are differences like how 'pet models in the New Features seem to be in these mysterious Paint Brush colours that aren't available ingame.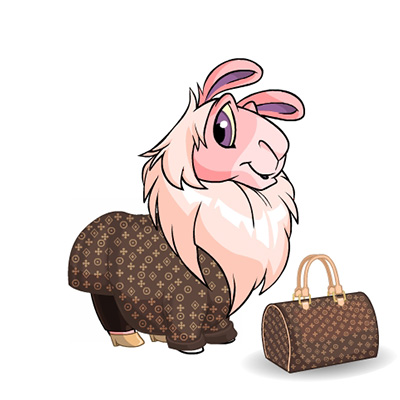 There's any number of reasons why they might've started doing this, branching outside of the colours available ingame allows for more creativity, for one. But without knowing, we're left to wonder. But if it is for creativity's sake, why is it that they keep re-using the same base models?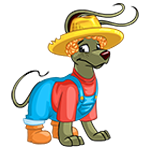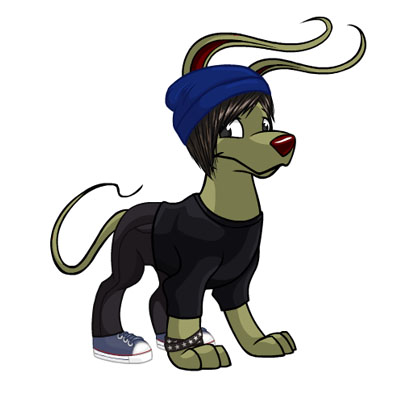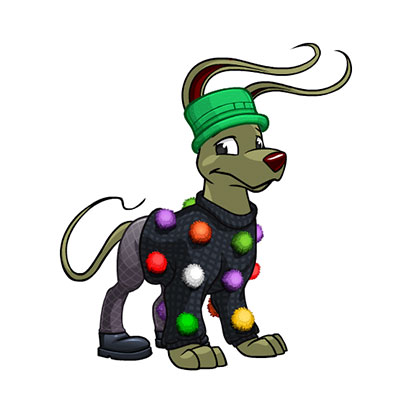 Those are the models for the Gelert Day clothes released in 2015, 2016, and 2017 respectively. Notice how they're all the same. Compared to the variety we used to get.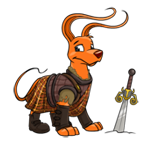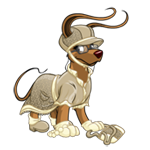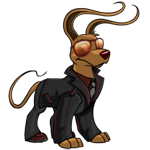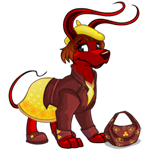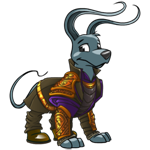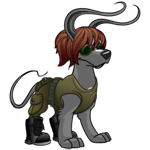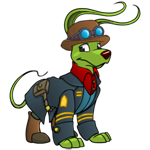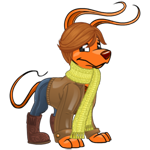 Now, keeping the wearables models a variety of colors, it's not a gamebreaking issue. Different colors to the base models was an important part of how the clothes were coordinated with the models and it would be nice if that returned, but is this something we can part with as long as the clothes look nice, people ask? But like I said at the top, is this a bug or a feature? Is this being done on purpose, or is this being done because maybe whoever does the wearables models only knows how to access that one same model for each 'pet every year? We only get the weird brownish green Gelert because that's the only model image they know how to fetch? Or are willing to fetch?
Speaking of wearables models in the New Features, the directories they're saving these images under, and the naming scheme they use. Compare to the prior scheme.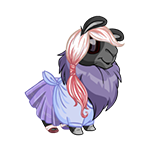 That image's URL is
"http://images.neopets.com/images/nf/gnorbu_adorbsoutfit.png"
, it's saved under "/images/nf/" with a "species_outfitname.png" naming scheme. But the first Gnorbu, the Classy Chic Gnorbu, her URL is
"http://images.neopets.com/items/gnorbu-outfit-chic.jpg"
, saved under "/items/" with a "species-outfit-name.jpg" scheme. No one's writing style is the same, but if there's a specific, pre-existing place and way to save files, why would they deliberately change it? But saving it under a new directory, that's not inherently inaccurate. We used to save things under "/images/nf/", but this new way is easier, maybe?
But it's not just about knowing where the right place to save things is. The .PNG format is better quality than the .JPG format. .JPG is rife with saturation and artifacts. And Jumpstaff must be able to see this, right? .PNG doesn't have this, hence why the TNT of old used it. So why won't Jumpstaff go back to using .PNG?
Speaking web assets and the way things are typically done, there's an event banner at the bottom left corner of the
New Features page.
Its purpose is/was to link to whatever the main site event going on at the time is. But at the time of writing, it hasn't been updated since the Faerie Quests event in February 2015. With the coming and going of plots and events, there are certain web assets that are typically updated. When an event starts/is on the way,
Board 7
goes up with the requisite descriptive name, flavor text, and icon, along with an inline link to whatever hub or plot comic or etc. that event has, if it has one. And that banner at the bottom left of the New Features page (and its flavor text) gets updated in keeping with that event too. For instance, during The Faeries' Ruin, here are some banners we saw as the chapters rolled on.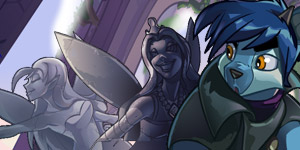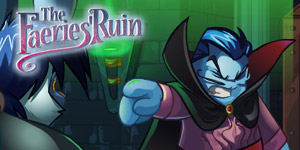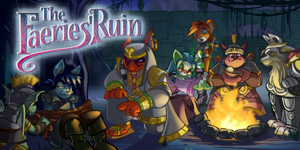 After prize shops and epilogues and so on are released, some time after the event ends, Board 7 goes back down. And the New Features event banner? It defaults to this.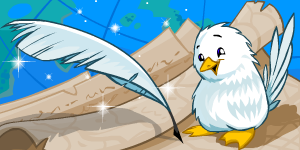 The header reads
"The Neopian Times"
and the banner links to... the Neopian Times. The flavor text typically says
"The Neopian Times is Neopia's one and only newspaper, with articles, stories, and comics published every Friday. Four out of five Neopians agree, it's the best Neopian Times there is!"
And the final link at the bottom reads
"» Read the latest issue!"
And it stays this way until the next plot or event comes along, and we set everything up all over again. But that's only the way things used to be. Jumpstaff may have elected to do something new. For one, they've made Board 7 a permanent fixture. Something that I, personally, have wanted to see for years. But Country Queen, in the
Editorial of Issue #702 of the Neopian Times
Country Queen discussed ways to link to active site events, and said they would look into more avenues for that. They already have avenues that were once used, but are no longer being used. Board 7 and the event banner on the New Features page, these are what are typically used to link to active plots/events, and if people are having difficulty finding the active plots/events, maybe it's because Board 7 and the event banner on the New Features page aren't being used. So why not update the event banner regularly? Why not keep Board 7 up like we're doing now, but, say, when an event is going on, change its name, icon, and flavor text. Like you would the New Features event banner. Use that flavor text to link to the active event, and then some time after the event ends, change Board 7's name, icon, and flavor text back to its default? That way we can link to plots and events the way we typically do, but also keep Board 7 up.
And finally, another periodic thing that hasn't been updated in a couple of years now without any explanation, the Calendar slices on the
Pet Central
page. Check out the Calendar table at the top left. At present it's supposed to be linking to "062017.png." But at the time of writing, it's blank. Because there is no 062017.png. The script for the Calendar slices is set to automatically update, but it can't because it has no image to call. It's supposed to call a 180x60 icon banner depicting a seasonal representation of that month. Sometimes banners get re-used, sometimes they make new ones. Here's the ones from 2013.












But around early 2015 we just stopped getting them. Why? Is this a mistake? Or is this on purpose? Maybe they didn't forget. Maybe it's just not a priority anymore and so it was deliberately put on hold.
At first glance you might think there's a lot of house to clean around Neopia. But you might be surprised. A lot of this might be intentional. Change itself isn't bad, but people have critiques about these changes.
* * * * *
3. Art Direction:
Another noticeable difference between the past and the now is the art. Both the style and the amount of it we get. Now, in the 17 years and change that Neopets has been in business, there have been lots of different art styles in the items and characters and scenes and maps and comics and so on that we've gotten, so art style difference is nothing new. Nothing wrong with being different. Then again, isn't the reason we have Art Directors because things are supposed to look a certain way? Why we update old maps to have better art? Even still, there's a difference between things being different, and things lacking. And that's the critique levied at a lot of the art we're getting.
First, let me give credit where credit is due. Jumpstaff has gotten a lot of praise for their wearables, particularly their backgrounds. But just about everything else is lacking. Lacking in that there isn't very much of it. We haven't had a Caption Contest since they ran out of Random Contest fan submissions in March 2015. Caption Contests, they involve characters and scenery in interaction, and we haven't seen Jumpstaff draw much of that at all. Most of their artwork involving characters is re-used or made from templates, as opposed to being drawn from scratch. The Advent Calendar scenes from 2014 to 2016 did a lot of this, and not always to congruous effect. There wasn't a lot of notice of it in 2014 for some reason, maybe because it was still sparing back then. Or maybe because the edits done to the models/sources were more extensive, with only a few assets scavenged per model. Or maybe because there were more points of articulation in the models. Maybe not ideal, but 2014 still had noticeably more polish than 2015 and 2016, where instead of animating the jaw, we'd get mouths drawn on top of mouths, blank expressions, and the same simple shapeless Customisation asset bodies used repeatedly. 2014 used Customisation assets too, but it wasn't like
this.
Or like
this scene
at the Deserted Fairgrounds. Why is who appears to be a close-but-not-exact approximation of Brucey B running Arnold's Test Your Strength game? They've never associated in the past. Or
this one,
where the seams really stand out. See Jacques? See how he changes from when he's on the beach to when he's boarding the ship? He magically sports an earring. As if his "boarding the ship" image was derived from the image on his
How to Draw page.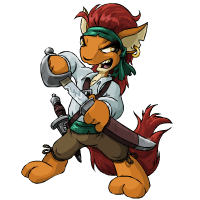 When the character switches model mid-scene, that's a major detail missed. And take a look at
this scene featuring Von Roo.
I wanted to point out the use of the scavenged, basic Von Roo model used to make this scene happen.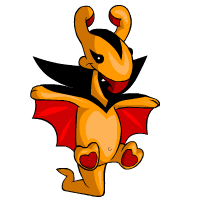 And compare it to the creative Von Roo designs we get when Von Roo is drawn from scratch, like in this
New Year's Eve 2013 scene.
See how the 2013 Von Roo is so much more animated? This is what Neopians like to see in their art.
But it was more than just Advent Calendar scenes. Remember the 2016 Games Master Challenge? With Jazan and Razul?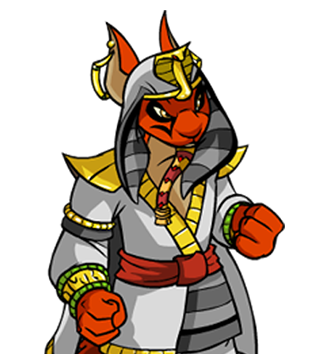 First of all, for some strange reason his image file is named
"Popup_Razul.png."
And Razul's is named
"Popup_Jazan.png."
Second, his also looks as though it were only a slight edit of the image of found on his
How to Draw page.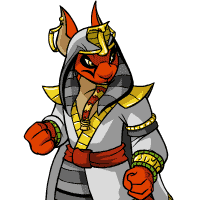 Or how about the Yooyu-related content we get? They all seem to be derived from the same template.






As opposed to the rich variety we used to get.






Another thing re-used? 'Pet day banners. Which, typically, we always re-use. But we re-use them with new flavor text. We take the image the banner is made from, and put new text on it. But Jumpstaff is, instead of re-using the source art the banners are from and adding new text, re-using the files themselves from past 'pet days.
Now, it could be said that re-using art and files is just efficient. Why go out of the way to add new text to 'pet day banners? Shouldn't we really just care about the content we get that day? Well, it's about what's lacking now. The attention to detail, the rich designs for things we used to get. That's what we lose when shortcuts are taken. Like Mutants. You know the thing about Mutants? They can't wear normal wearables. Which is why they can, and typically do, come in creative and dynamic styles without being tied to the standard model. To illustrate, here's a regular blue Lutari compared to a Mutant Lutari.
See the difference in style? See how the Mutant Lutari branches out and does its own thing? That's what you can do with Mutants, and that's what we like about Mutants. But see what we got out of the Mutant Wocky.
Barely any variety. Interesting new designs, that's what's missing here. And it goes for the Petpets too. Instead of rich, detailed designs, it's as though someone took the template and just drew on it. Compare the caliber of Mutant Petpet we used to get...






to the current standard.


And it seems the art is only getting less detailed, not more. Like with the Birthday Petpets. Typically they're these intricate, vibrant, cakey looking Petpets.




Even as recent as 2015, on Jumpstaff's watch, this standard was relatively maintained.




So why did we lose it entirely in 2016?




Rather than being made of a cakelike material, these Petpets have just had frosting quickly applied to their basic templates.
But detailed art from scratch doesn't just look nice, it's necessary for illustrating differentiating characteristics. Imagine if Jumpstaff depicted Bruno and Kanrik, but used the generic blue Gelert 'pet model to do it? That wouldn't be keen, because the generic blue Gelert 'pet model doesn't look like Bruno or Kanrik.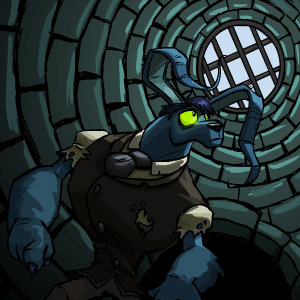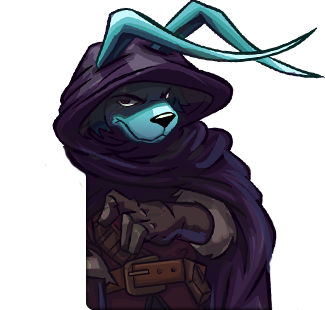 Granted they're all blue Gelerts, but they have differentiating characteristics that set them apart from each other. Set them apart from a generic Gelert design.
Unfortunately this isn't the case for Mipsy, as depicted on the cover of her book "
Mipsys Travel Memoirs of Exotic Beaches.
"

I have no problem with Mipsy enjoying travel, we've all got hobbies. She's not even actually a wizard, that's just her NeoQuest character. But that's not Mipsy. That's a generic Acara model.
If it wasn't for the name of the item itself, how would we know that was Mipsy? This is why you have to actually draw the characters themselves. Not all Gelerts are the same, not all Acaras are the same. And typically you depict them as such.
But you don't have to take my word for it that things aren't just different, but lacking. Even Jumpstaff themselves point out that they're cutting back now. A couple years ago, if there was need for this article, it might've had a custom thumbnail. You know the custom thumbnails, right? On average we used to get about 10-12 of them every 10 issues. But towards the end of 2014 they started to slow down, and then in early 2015 they just stopped. And Country Queen addresses this in the Editorial of
Issue #707
of the Neopian Times. Saying that yes, the reason we haven't seen any custom thumbnails as of recent is because they aren't making any. Unfortunate, as an immediately noticeable part of a full news week is the new images that break up the text. New Caption Contest images, new Neohome Spotlights, and many more, including the weekly custom thumbnail they would use to mark that week's Times issue.
But why this change in standards for art? The obvious solution to this whole art problem is to start creating quality art again as opposed to cutting back. But Jumpstaff definitely knows that this is what we want. So what reason do they have for not doing it? Do they lack the resources? Is it no longer a priority? That's an answer we don't have, but for the time being this is just the reality we weather. They aren't making new art like custom thumbnails. Maybe it's because they can't, maybe it's because they'd rather give us other things.
Speaking of wondering why things are the way they are...
* * * * *
4. Keeping Us On Hold:
The flashpoint of all these troubles would have to be March 2015, when Jumpstaff took control of the site and content ground to a halt. All of the missed schedules and failures to meet quotas and general substandard weirdness spilled out from there. But the most frustrating thing about these troubles is that they came without warning or explanation. Or even acknowledgement that they had happened. We all waited for months that have now turned to years, and the glaring issue of how drastically things have declined was never brought up. Leaving us in the dark. Basically pretending that nothing had happened and things were fine.
I'm not saying Jumpstaff wasn't working on things. I'm saying they left our concerns unaddressed. Didn't answer us when we asked why things had stopped, nor did they even really admit things had stopped, at least at first. When they took the reins they just stopped a bunch of things, leaving us with no content, and no answers for why. We were left staring at those things like "Why haven't they done the thing yet? Are they at least gonna explain why they can't do the thing? If it's cancelled, tell us. If it's not cancelled, tell us why it hasn't been updated. This isn't a small thing, this is an obvious, glaring thing. Things are obviously not as they should be, we have concerns, we need answers. But Jumpstaff isn't answering, even though we keep asking. why would Jumpstaff just not say anything?" When the Neopets staff takes content or some thing away from us, or quality or the experience or things in general take a turn for the worse, addressing those issues has been a staple priority since as far back as when the site layout had to start displaying larger, 728x90 banner ads on
November 24th, 2004.
A good example of what I'm talking about is a year prior, in 2014, when the old TNT was still in power. And there was a content shortage. Not as major as the one we're in now, but a noticeable enough one that people wanted to know why 'pet days were only getting one outfit instead of two, and why Gadgadsbogen Day and Grey Day's content had been spread thin over a week. People asked. And TNT recognized and addressed concerns. In the Editorial of
Issue #641
of the Neopian Times they made a statement admitting that they were low on resources at the time and couldn't produce the kind of content seen in a typical year.
"Less butter, but still the same amount of bread to spread it over"
they said. This was because they were in the middle of the transition to JumpStart. For the duration of the transition, they would be shortstaffed. But once things were settled, things would be back to normal. They asked for our patience and for us to bear with them, and very soon things would be back to normal. And we readily accepted this. Because having to put up with hard times, especially if they're only temporary, that's something we can do. As long as the staff is honest and upfront with us. And TNT was. They addressed the content shortage, they addressed the loss of Key Quest, they addressed the loss of Lenny Conundrum, and they addressed the lag towards the end of 2014/beginning of 2015 in particularly extensive detail. And we were able to accept these things. Probably wouldn't have accepted them so happily if they had ignored our concerns. It's standard practice. When you leave someone on hold waiting for something, at the very least you apologize for the delay, explain why there's a delay, and here and there give updates on where they are in the call queue.
And to be fair, Jumpstaff does practice this in certain specific cases, it would appear. Like when we were experiencing those e-wallet issues towards the end of 2015 and the start of 2016. Country Queen laid out the specifics of the e-wallet issue candidly in the Editorial of
Issue #712
of the Neopian Times. This is more insight into the e-wallet function than maybe we've ever had. And for Jumpstaff's upfrontedness, people were happier to stick with them through these difficulties. Jumpstaff will make a statement about e-wallet issues or the moderation system malfunctioning, they'll even make a statement when a burrito gets too controversial. Because they know when people have concerns, it's not enough for us to just shut up and just trust that Jumpstaff is most likely getting to fixing whatever's not right. Jumpstaff knows that problems don't just need to be fixed/worked on, but concerns over those problems need to be addressed. People need to not be kept in the dark.
But there's so many other things below standard that we have concerns over, but Jumpstaff
won't
address those. And at the very least they should address the issues and concerns that the TNT of old would've addressed. And they would've addressed these concerns. If they failed to meet a standard they'd set involving content quality/quantity, they made sure to explain themselves. Because it's not just the lack of content and quality, it's the reasonining behind it. Speculation on whether Jumpstaff is still too uneducated to do things properly, or that it's no longer a priority for them to care to do things properly, or that they don't have the resources to keep track of all the things they have to do properly.
Like the use of the team fan names from The Daily Neopets and Sunnyneo. They stopped using them, and that might seem like a win to a lot of people, but names themselves don't matter. What matters is why it happened. The underlying flaws in the system conducive to a thing like this happening. Like maybe Jumpstaff is so inexperienced that they turned to the Fan Sites to learn about Neopia and because they're inexperienced they confused our fanon/speculation for established canon. Or speaking of the Cup, why hasn't the commentary between Tobias and Hovri been updated since Altador Cup 9? They're still talking about how Roo Island went from 14th to 3rd "last year." That was accurate when they said it back in 2014, but only then. So is it because after the shift in management in early 2015, we were left only with people who didn't know HOW to edit the commentary? Or that they even needed to? Or is it that the new management doesn't think it's necessary? Or is it like with the Neopedia, and something broke in the transition and now they can't edit the commentary? And if so, why hasn't it been fixed? Not a priority compared to the more immediate concerns?
Or why have they just stopped updating various Contests & Spotlights like the Caption Contest? Is it because they don't have the resources to draw them? Do they just not feel like bringing it back? They'd rather put resources towards other things? Do they know people really want it to come back? As well as other features that brought us intricate and vibrant art scenes? Why was Brucey B running Arnold's Test Your Strength high striker game in that Deserted Fairgrounds scene we mentioned from last year's Advent Calendar? Anyone familiar with Neopian lore would know that Brucey B doesn't run the high striker, Arnold does. So do they not know that? Is Jumpstaff still new enough to Neopia that they're making mistakes with the established canon? Or do they not have the resources to draw Arnold? Or maybe they don't want to use the resources to draw Arnold because it's more efficient to scavenge pre-existing assets? Maybe that's why Brucey B is cobbled together with Customisation assets from a generic Bruce instead of being drawn from scratch? Is that why
Malkus Vile
was also cobbled together with Customisation assets? To make an efficient "close-enough" facsimile of Malkus? That's not Malkus. That's a generic green Skeith that's kinda dressed like Malkus. Is that why so many images look scavenged from the How to Draw pages?
Why doesn't the game AAA's Revenge have proper framing on its play page? It has it on its
ID page,
but when you get to the actual
game,
the frames and so on are missing. For all of the non-PHP games, the Games Room framing is typically supposed to be there. As you can see from all of the other non-PHP games. Take Dungeon Dash for instance. On both the
ID page
and the
play page
you can see the High Scores frame, the Favourites frame, the You May Also Like frame, and the Favourite Button/World/Category frame that holds the game. So did Jumpstaff just decide AAA's Revenge didn't need these things? Is AAA's Revenge still incomplete in being put up? Were they planning on putting the frames in later? It's not the only thing in the Games Room that needs updating. Comastar's picks are still up on Staff Picks, and she hasn't worked here for years now. So maybe they just haven't gotten around to it, but intend to in time?
Why was Zaira not onhand as Kari's loyal sidekick for the 2016 Festival of Neggs? Does Jumpstaff not know who she is? Does Jumpstaff not know that Kari already has an assistant and Kari is supposed to host the Festival of Neggs while Zaira handles the Neggery business? Because for some weird reason Kari couldn't find anyone to work in the Neggery so she gave her Festival of Neggs to this Topsi newcomer. How does that make sense when Kari definitely has someone to run the Neggery? It doesn't make sense for her to say she couldn't get away from the Neggery. That's what Zaira's for, that's what Zaira's always been for, that's what Zaira was always supposed to be for. This is why "The Real Negg Faerie" couldn't get an apprenticeship with Kari. Because she has a loyal sidekick already. So if this "The Real Negg Faerie" guy couldn't get in, Topsi shouldn't be able to get in. Why won't Jumpstaff properly update the New Features banner or the Neoboard icons or the Pet Central Calendar slices or the 'pet day marquee banners? Don't have the resources? Not a priority? Do they not know they're supposed to? Why did Jumpstaff release weapons seemingly without understanding of balance? Half of those weapons were overpowered for their rarity, the other half were underpowered. Is this because they're new to the Battledome and don't quite know what they're doing as far as weapon design yet?
Speaking of weapons, there's the
Dual Batons of Katsuo.

Their description reads
"These fine hardwood batons are similar to the ones Katsuo used towards the end of his training."
Since when was Katsuo's training done? Much like the Pant Devil's Evil Twin allegedly being from Neopia Central, this is a thing that hasn't actually been established in canon. Jumpstaff is saying Katsuo's training has come to an end, but all appearances of Katsuo depict him as a young man yet, still in training. Not serving the Emperor yet. So why would Jumpstaff say this? Is it because they're relatively new to Neopia and don't know the canon? And while we're on the topic of Shenkuu-related things, why haven't we had the Lunar Festival this year? It was supposed to happen Saturday, January 28. So the following Monday, January 30th, the Lunar Festival content should've gone up. Surely they know when they're supposed to hold it, in accordance with the Lunar Calendar. They remembered
last year
, so why not this year? Was scheduling so hectic and haphazard that they didn't have any vaguely chickeny/roostery content ready in time, what with having to manage Charity Corner as well? Or was there a failure to communicate between departments or something and the order to release Charity Corner content just got lost? It wouldn't be the first time a breakdown in communication resulted in a mistake, as admitted by the old TNT in the Editorial of
Issue #659
of the Neopian Times. With regard to how someone in some department mistook a Qasalan Scorchio mummy for Eyrieki.
Maybe a similar disconnect in communication is why
"A History Of Famous Tonu"
, an article penned by
Alyseth
in Issue #770 of the Neopian Times, has a picture of Galem Darkhand as its thumbnail at the time of writing. Despite this being a list of famous Tonu, and Galem Darkhand not being a Tonu nor even mentioned secondhand in the article, referencing a Tonu. Maybe this was meant to be Khan the Unstoppable? Who actually is a Tonu? And is mentioned in the article?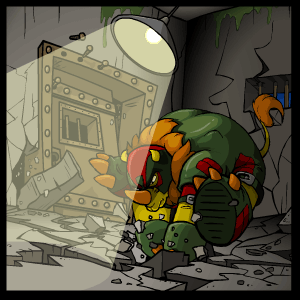 But the person sent to fetch the image maybe didn't know who Khan was, or what a Tonu is? And they searched some kind of image database for images tagged with "khan", which brought results not just for Khan the Unstoppable, but Galem Darkhand? Because "khan" is in his name? And so this person, who doesn't know who Khan is or what a Tonu is, ended up picking that image and it went live like that because of a potential lack of communication and connection between departments? No one was there to check the pick for accuracy?
And why has the news been so late recently? Not just late in the day, but consistently a whole day late. Case in point,
Scorchio Day 2017.
Scorchio Day appears under the March 15th timestamp. It's supposed to, like it did in
years prior,
appear under March 14th. Scorchio Day is March 14th. Just look at the
Calendar.
You'll also notice in that week that Illusen Day is under March 18th, it's supposed to be under March 17th. Or how about the week where March 3rd was supposed to be cancelled due to lack of interest. Instead of cancelling March 3rd, they
cancelled March 4th.
They had the skip day late, something that has only happened
once before,
and those were bad and uncertain times. But do you know why we cancel March 3rd due to lack of interest? It's a tradition that started in 2004,
here.
On March 2nd, they released an extra news post for the next day, March 3rd. They did this because they were kicking off the now standard New Features practice of releasing news that's timestamped a day ahead. For instance, on March 1st, the date in the New Features should be March 2nd. So Uni Day content actually gets released on March 1st, so that it can coincide with its date as far as the New Features page is concerned. But for some reason Jumpstaff is doing everything on the day of, and thus, late. Because they released Uni Day content on the actual March 2nd, it went up on the March 3rd newspost, which it's not supposed to do. And that's also why March 4th was cancelled, when it's supposed to be March 3rd. That's the irony of this. We cancel March 3rd specifically so we can have news released ahead of time. Specifically to avoid this kind of thing. So why is Jumpstaff doing it? Are they changing the policy on news ahead of time? If so, why not change the news dates? If they're making a point to release Uni Day content on the actual Uni Day, shouldn't the time stamp match the day it's supposed to happen?
Speaking of forgetting to do properly mark occassions, Jumpstaff, perhaps due to being swamped with so many Times takeovers, has forgotten other "official" Times theme days. Like the Illusen issue. That was supposed to be
Issue #773.
And it looks like the writers remembered, but Country Queen didn't seem to notice. Because aside from more Illusen-related articles than usual, it's lacking the Illusen Day framing and the being brought to us by Illusen, or Illusen's Glade, or something involving/acknowledging Illusen. The way
Issue #636
was, or
Issue #586
was, or
Issue #536
was. Are they aware of the themed Times issues they're supposed to be having? Have they, knowing this, consciously elected to not have them? If so, why? What resources does it take up? All it takes is knowing what days you're supposed to acknowledge. And speaking of acknowledging themes/content days, where was Valentine's Day this year? Starting on
the week of the 14th
, we opened with Lenny Day. Observed on the 14th, ordinarily Lenny Day would've been done early so that Valentine's Day could be done on time. But as I just mentioned, Jumpstaff has been doing the news consistently late for some mysterious reason. So maybe the 15th? Nope, just a normal day. Why would they let Valentine's Day pass without releasing the content? Was it supposed to be the 16th? There was some vaguely romantic content released that day, but still that day was not formally titled "Valentine's Day." As it was in past years. As early as
last year.
Again, Jumpstaff knew last year to have Valentine's Day. Why didn't they have it this year? Or if they did, why did they forget to formally observe it? Are they so buried in paperwork that they just lost track? Because as it stands there's at least one piece of content they haven't formally announced either, the
Candy Cane Prison Shank
in Wonderous Weaponry.

Effectively "stealth released", this item is active, you can go buy one now from Kentari, but it hasn't been announced in the news yet. Why not? Did they lose track of it? Did they even mean to release it? Speaking of things released but not announced, why haven't they announced the Marble Paint Brush? Candy wasn't the only winner. Marble was honored with a spot too, as seen here at the
Rainbow Pool.
You can get a Marble Paint Brush right now, with a little Vending Machine luck, but as of writing no word on it from Jumpstaff in
the news.
Only Candy was mentioned in the news. Marble got a passing mention in the Editorial of
Issue #772
of the Neopian Times, so did they just not think it necessary to announce it in the news? It smacks of another irregularity in the release schedule, that other potion they released on Jubjub Day 2015. The
Zombie Jubjub Morphing Potion.

At the time of its release, and still currently, there is no Zombie Jubjub. Country Queen, in the same Editorial where they say Fyora's "other favorite color" is purple, admits to this being a mistake, and mistakes like this have happened in the past. Items have been developed by the Content Team that have, for one reason or another, been problematic. But the Quality Control people kept these items from actually being released. Or even seeing the New Features page. But the Zombie Jubjub Morphing Potion is still being released, in the hopes that someday a Zombie Jubjub will exist and give its function some purpose. As with the Candy Cane Prison Shank and Eyrieki and the Marble Paint Brush and "A History Of Famous Tonu" and potentially so many other things, did someone just not get the memo? Did Quality Control fail to correct this?
And finally, speaking of answering questions, why is the Editorial so short nowadays? We get about 6-7 Editorial questions a week now. Or less. But before the 2015 change in management the count of questions was almost always in the double digits. And that's not counting Happy Thoughts/Warm Fuzzies. Is Country Queen busy with other responsibilities around the site? Because this was a thing happening even before Country Queen took over, in the brief sliver of time after the 2015 change in management, but before Country Queen became the editor. As seen in the Editorials of
Issue #681
,
Issue #682
, and
Issue #683
.
It's been so long waiting for answers that at this point, it's not enough for Jumpstaff to just acknowledge and explain why the content has stopped or why they no longer do things the way they used to be done. Now we need to know why we had to wait so long for an answer. Case in point, the Petpet Protection League award. Among so much other content. Left it untouched for 2 years and made no acknowledgement that it stopped or why it did. And then in February they just stroll back in with it in the
news that day.
Like nothing happened. As if we hadn't been left on the hook waiting with not so much as a "Hey we realize things have come to a sudden stop, but we can explain." Imagine if we had been kept waiting like that for the lag issues or when 'pet/theme days started to slow down. We would've rioted! Or the recent word in the Editorial of
Issue #768
of the Neopian Times on the other Contests and Spotlights that hadn't been brought back yet. After almost two years of people asking, something was finally said. But what was said? Jumpstaff is gonna take a look at the remaining Contests and Spotlights "in limbo", and maybe start some of them back up or retire them all. Nice to finally hear some acknowledgement, but this creates more questions. First, why are they only now acknowledging this publicly? People have been asking what the deal was for months and months and Jumpstaff saw fit to let us stew in it. Second, not only do we not know why it took so long to get an answer, but again, as mentioned earlier in the article, we don't know why they wouldn't be able to bring the remaining Contests and Spotlights out of "limbo." It would be remiss to just give up on them. Again, the Contests and Spotlights are a crucial part of a full news week. The meat and potatoes of the New Features page. To cancel them and not have anything to put in their place just perpetuates this problem of sparse content and slow news days. And what do they even mean by "limbo?" As if this "limbo" was out of their hands. As if these Contests & Spotlights being in "limbo" wasn't because of their neglect to update them. They were the ones that put them in "limbo." And they have yet to provide a reason why they won't bring them back. In the Editorial of
Issue #776
of the Neopian Times, the best Country Queen can give us is that one initiative-taking staffer and the new Editor
after her,
Scrappy, made it so that the few Spotlights that recently came back could come back. But what was stopping people from bringing them back earlier? Were they unable to up until recently? And by what hurdles? Did Scrappy have to
volunteer
to run these contests because the layoff left Neopets so shortstaffed that they lost most of the people that do the jobs that run the site? And so now Jumpstaff needs some of their staff to "volunteer" for these currently unoccupied jobs because the current Jumpstaff structure is so short of personnel and not yet arranged to fit how Neopets is normally run?
When the old TNT took down Lenny Conundrum, they didn't say "Welp, it's in limbo, that's all we can tell you." They took it down and told us that they had to because of maintenance with the prize script. And then when they couldn't fix it, they told us that it was on hiatus. They gave explanations. They explained that Lenny Conundrum is down not from any neglect on their part, but because it was broken. But Jumpstaff, all they have to say about the content they won't bring back is "It's in limbo." Because of what? How is this not in Jumpstaff's control? Do they not have the experience? Do they not have the resources? Do they not want to spend the resources because they'd rather make content that's cheap and easy and efficient to make? We're still left to speculate on what many questions remain. This is not a full-blooded acknowledgement. Neither of these are.
They say that if you don't like something, don't just quit. You should try to improve it. We Neopians try and make our changes by providing feedback that Jumpstaff listens to and makes decisions on. We make our changes by making our voices heard. But we aren't seeing the responses or reactions to our voiced concerns that we should. I don't mean things aren't getting fixed fast enough, because fixing things takes resources and labor and time and experienced perspectives. But you know what doesn't? Giving answers. Acknowledging that we aren't at the state we should be in. Explaining why we aren't. Why we're recycling art like we do now instead of drawing things from scratch. Why mistakes with the canon are being made by people who supposedly have the best grasp of it. Why content is so curtailed. And explain why it took this long to get an explanation. Why things like the PPL award went their entire absences without an explanation for why they were gone. Because the lack of acknowledgement hasn't been for lack of asking. I can say not just from Neopian testimonial, but first-person experience, that it's been ticket after e-mail after Editorial submission after Neoboards complaint thread, asking if for nothing else, that Jumpstaff publicly acknowledge the straits we're in. These are the responses and reactions we should be getting, these are the responses and reactions we got all those times in the past.
Those who are dissatisfied don't want to pretend as though everything's fine. But unfortunately at this point, it might be that the wait for answers has done even more damage to morale. Things have improved from 2015 to 2016, they continue to improve through 2017, content is picking up, but for a lot of Neopians the fact that Jumpstaff said nothing while that content was mysteriously MIA, then just surprises us with its return as though it was never gone, if anything begs an explanation, it's that. Because one day, even if Neopia enjoys a new day of prosperity, frustration will remain over the fact that Jumpstaff swept their failures during the bad times under the rug. Happy to relish the good times, but unable to admit that they put us through some bad times. And said nothing about them. Just pressed on like everything was fine. It's hard to enjoy the eventual good times when you're stuck with bad times baggage. If Jumpstaff is aware of our concerns, which they probably are, and our concerns are valid and worthy of addressing, which they at least once were a short few years ago, what reason would Jumpstaff have to not address them?
Things are improving. We got two new Paint Brush colors. We got not one, not two, but three new items on
Jhudora Day
this year. We got that Charity Corner and hopefully soon the accompanying Community Hall. They've been going in doing rebalancings of some of their less than refined recently designed weapons, like the Shuriken and the Maractite Dimensional Trap. And Jumpstaff has shown that they've got a lot of interesting ideas for the long future ahead. An Advent Calendar with wrapped gifts and the return of holiday concerts, converting everything from Flash to HTML5, getting a new event off the ground, this is why "different" is very often good. To get new, fresh eyes on Neopets has been to some benefit. But going by overwhelming public opinion, there's a lot that needs to be made up before we can call ourselves "back in business." A lot of learning, maybe? A lot of getting into a rhythm? The majority of us are ready to believe in Jumpstaff, ready to wait for as long as we need to wait. We just need to know what path things are on. And I believe that can be cleared up easily with the steps laid out in this article. I personally believe the first step is starting with "why" and "when." Speaking only for myself, what I want more than probably anything else covered in this article, is public acknowledgement. Of the full state of things. And the fact that we didn't get this hopefully soon to come acknowledgement sooner.
And if and of these things are deliberate, let us know that too. This has been The Plotters, and here's hoping 2017 brings us, for better or worse, something to talk about.