Post by Shinko on Dec 27, 2014 19:18:12 GMT -5
((Time for a roleplay with

Kristykimmy

! But first, a quick note for those of you who haven't been following my Countryswap Crossover fics. If you haven't read them, you're probably a bit unfamiliar with Seamus Dun, a minor character I introduced in that story and made canon with permission from Celes. Here's a quick refresher on Seamus for those who may not know him, and for the first time, a visual reference!))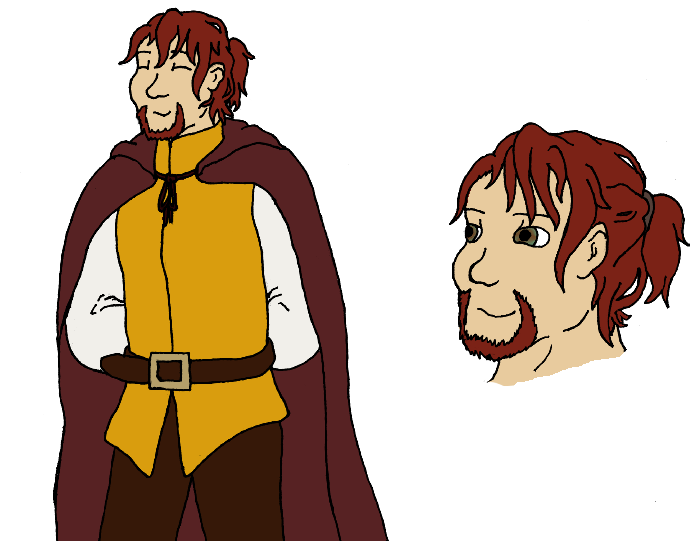 Seamus Dun is a member of the minor Bernian noble family House Dun, based out of the coastal town of Jennet. Seamus lives in Destrier and was hired by House Stallion to take over as their bookkeeper after Kirin Mao opted to stay in Medieville with his boyfriend Leif and work for Ambrose. In general Seamus is a cheerful guy, and loves meeting people and making friends. A bit of an absentminded professor, he can occasionally lose track of time and his train of thought is easily derailed by distractions. He is a fantastic mathematician, capable of doing complex calculations in his head and with a near photographic memory for tallies and formulas. However, where he excels in math he is somewhat deficit in his social graces. While he does just fine in a casual setting or with a small group of people, in a large formal gathering he might as well be a lump of stone for all the good it does trying to talk to him. He avoids most parties and banquets when he can get away with it, and tries to linger around the edges of the crowd and be unobtrusive when he can't. For a nobleman he's surprisingly lax about his rank, having grown up in a small coastal community with numerous peasant children as friends. In fact, most of his closest friends in Destrier are castle servants or townspeople, and his relationship with most of the Stallions is strictly a professional one. He was twenty-two at the time of his hire, a few weeks after the Bloody Coronation, so you can calculate his age at any given point of the timeline from there.
The family patriarch is Seamus' older brother, Aaron Dun, and their house colors are goldenrod, dark brown, and white. Their emblem is the sea otter, which the people of Jennet trap for it's valuable fur. Seamus usually wears the colors of his birth house, but with a crimson or maroon cloak as a sign of his employment with House Stallion.
Seamus sighed with contentment, closing his tally book for the day and standing up with a stretch. It was spring at last in Destrier, and with the thawing of the winter snows traders were once again making their way into Bern. The twenty-four year old bookkeeper of House Stallion was kept extremely busy recording the numerous transactions that were made with these traders, but he didn't mind it so much. After all, he'd taken this job because he liked math, so the long hours weren't too much of a drain on him. Certainly nothing could quite compare with the organizational nightmare that had been Lady Isabelle's wedding the previous summer. That had been a real trial by fire for the fledgling bookkeeper, and it had been a distinct relief when the entire affair went off as splendidly as anyone could have hoped.
The nobleman glanced at the window and realized that while he'd been working, the sun had become little more than a thin line of gold on the horizon. Whoops, had he really lost track of time that badly again? With a self-conscious chuckle, Seamus took the maroon cloak he wore as a symbol of his service to House Stallion down from the coat hanger in the records room, tied it around his shoulders, and started off down the hall towards one of the smaller common rooms in the public areas of Destrier Castle. It would be at least another hour or two before dinner was called, but if he didn't move out of the privacy of the records room he was liable to get distracted again and miss it entirely- it wasn't the first time that had happened to the workaholic bookkeeper. At least in a more public room a servant or other worthy might notice him if he got sidetracked again and helpfully inform him of the hour.
Arriving at his destination, Seamus sat down on one of the chairs and nodded politely to the servants who were in the room sweeping the floor. They bowed to him, though it was mostly out of formality since he knew both personally and considered them friends. Not wanting to distract them from their task, however, Seamus instead took out a small worn book he'd been given as a gift from his older siblings when he left his home in Jennet- a book written by a famous Bernian mathematician of a hundred years ago. He'd been working his way through it a little at a time between his work since arriving. He was just getting to a complex theorem when the sound of footfalls on flagstones outside the room caught his attention, and he looked up curiously to see who was there.
Seamus is a workaholic and worked past the end of his shift- not for the first time. He goes out into a common room of the castle to relax and read a good math textbook (yes he's that much of a nerd). The he hears someone coming and looks up to see who it is.