Post by Coaster on Jan 22, 2014 5:24:14 GMT -5
(you mean it's spelled person-a? what is person-a?)
Image: (probably will be updated eventually when Coaster gets better at arting again)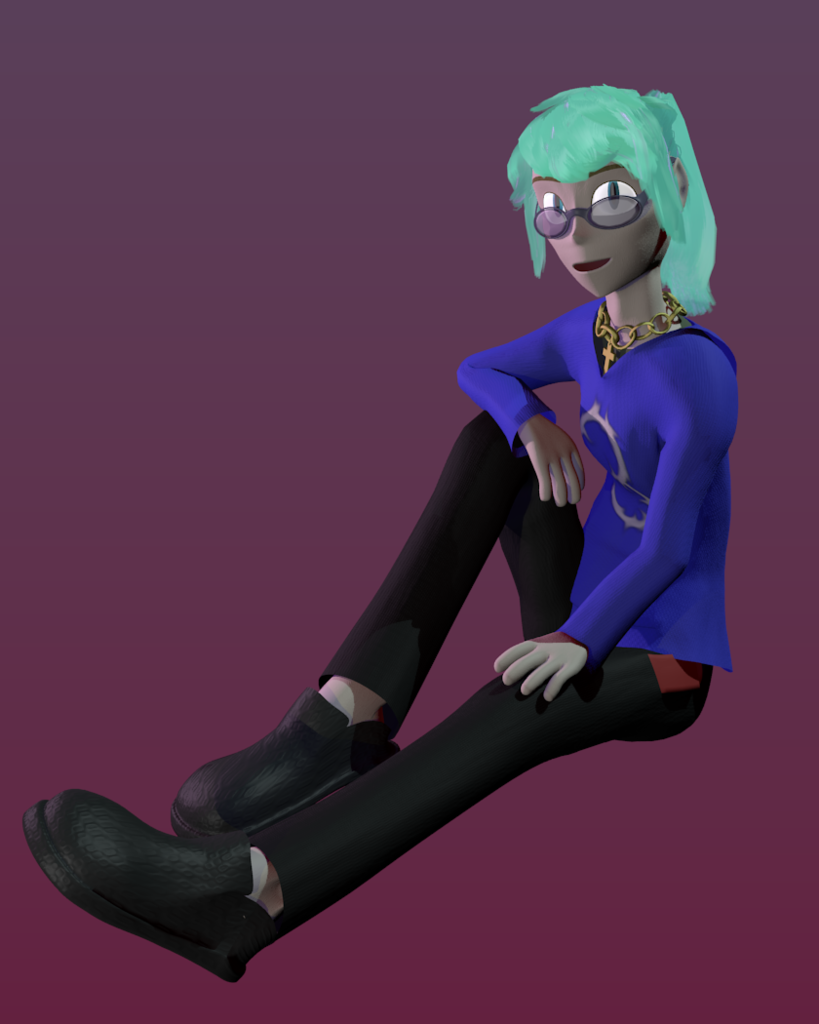 Forum Nickname:
Coaster (because what else?)
Pronouns: she/her/hers, occasionally they/them/theirs
Species:
One of the a person probably not a giant gnome/Christmas elf hybrid. probably
3D model (the image sort, not the fashion sort)
Transformations:
THE VERY BEST THAT NO ONE EVER WAS
Translate, Rotate, Scale; X/Y/Z planes
Traaaaaans
Appearance:
Somewhere between 5'7" and 6' depending on posture.
Pale, rather skinny, and somewhat boney. Very little going on in the way of curves.
Medium-length, mint-green hair, typically in a messy half-up style.
Black-rimmed, round sunglasses with purple-tinted lenses, and a spy tech screen subtly protruding from the right side of the right lens.
Gold-painted cross on a similarly colored chain worn around neck.
Black shoes, Velcro-fastened, even though she really does know how to tie her shoes she swears it.
Usually wears black track pants and a hoodie; the former may be plain black with a red pocket or black with a green flame design on the bottom; the latter may be bright blue with a large, white, stylized numeral "3" on it, or again black with a green flame design on the bottom and the wrists.
Wears pretty much anything that story context demands it's not super-manly-man-stereotype-ish; occasionally sports fandom costumes such as runecrafter, cute mascot, or Pokémon rights activistic antagonist, but strictly when artist powers force her to do so sometimes. May have to sew the costume herself, usually with terrifying results.
Wears assorted pieces of practical technology when appropriate, such as a (borrowed) Robot Hissi arm used in snag machine to save the world Neopet transfers.
Was spotted in one case jumping over a candle (and subsequently through several flaming hoops and a set of flame-throwing cannons, and maybe a shark pit) with blond hair and a set of lederhosen; the former may be natural, while the latter most definitely are not.
Jobs:
nah, Gates is so much better
Neopets owner
Semi-retired wannabe spy
3D artist-character maker/programmer/computer scientist
Churchgoer if in-universe characterization permits
Somewhat of a gamer
Dabbles mildly in fantasy mage-y or magic-knight-ish stuff in universes other than the actual
Used to dabble in piracy but found out it wasn't glamorous without the power of pseudoscience, so left it to the experts (now fairly ambivalent to either pirates or ninjas)
Weapon of Choice:
Frying Pan of DOOM, stolen from a former painterly guildmate after the base fell into disuse
Otherwise, anything unconventional but still existent. Halberd, wrench, carpentry hacksaw, magic candle, destructive pocket plant hulk held captive in glass jar, etc.
If a sword must be wielded, it's probably rapier-style or something vaguely piratey (go with experience, at least) or else ornamental and therefore not meant for actual combat unless MAGIC
If a wand must be wielded, it's probably the stereotypical modern-day magician cane type and must go with the matching top hat and cape... or else super glittery with unicorn-hair ribbons and such
Magical capabilities:
Seems to make things work that logically shouldn't, but just as often mixes things that end up not working.
Also seems to have a rather impressive fruit garden that takes care of itself with absolutely no work put into it. Peculiar.
In more hard-magic type settings, can range from "holy" to "arcane" specializations, but typically not elemental.
Personality:
Has settled down a bit in the past couple years. Alternates without much reason between awkward and jokey and quiet and crybaby and obnoxious (but never ruthless).
Very much cannot limit her own post length, but is much more clumsy with audible speech (thankfully, the latter never happens on this forum).
Slows down substantially when put on the spot or in a serious situation that she can't anti-logic his way out of.
Preference to orchestral music, disco, and just about anything else with interesting chord progressions. Gets very bored with listening to just one of another type of music for too long. Especially detests just about anything Top 40 and obnoxious dubstep.
Likes sandwiches, particularly dry sandwiches.
Likes winter (for the sledding and snow structures, not skiing).
Enjoys broom dueling, fake fencing, sledding, hoverboard flying, Pokémon battling, and badminton. Dislikes most other sports, and pretty bad at all sports, including the ones listed.
Tabloid Data:
Occasional lurker and sing-along starter. Brief stint as orphan-buyer at the Chinese restaurant.
Alter-egos or other persons:
Rob and Obi: twin quarrying quarreling tin chibi robots and Clue destructors, wearing typical miner's helmets and plain pickaxes. Rob's more resentful, exasperated, and generally negative, while Obi is more playful, childlike, and generally positive, but still quite a troublemaker.
Twisted Coaster: evil magically-separated wraithy counterpart with purple hair and epic plate armor and stereotypical sword. Lots of maniacal laughter and torches and monologues in his younger days, but most of it has condensed into quiet over-seriousness.
Non-original characters:
Sparky (LEGO Racers 2)

:
THIS IS SPARKY. IMACATCHUFLYMAFLUMMY.
First appearance:
here.
Willing to be used in Tabloids?:
If Coaster posts, Coaster is there. Otherwise, she is not there.