Post by Crystal on Apr 7, 2007 10:04:01 GMT -5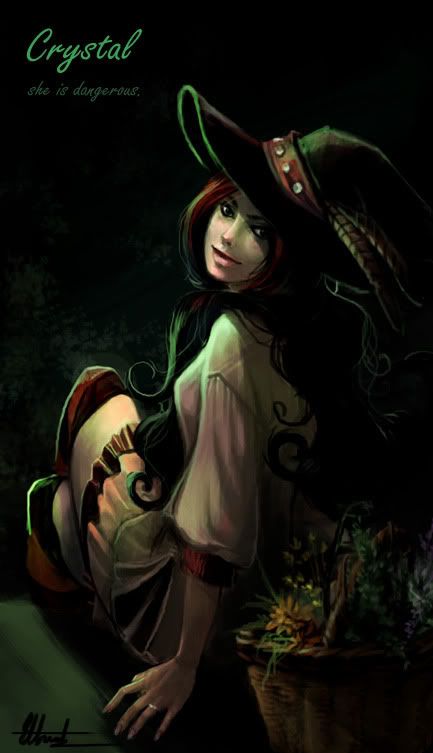 NINJA PERSONA
Name:
Crystal Tumbleweed
Species:
Human, with no transformations.
Appearance: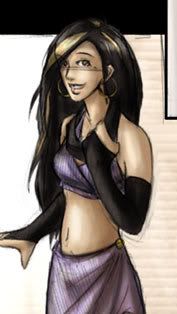 Crystal Tumbleweed is a ninja, with all the appearance and stealth generally ascribed to the name. She is small, almost tiny, slim and wiry with long black hair and a touch of grace that people never notice when she's hurting them. Quite a while ago, she added artificial golden streaks to her hair and they have remained ever since.
Crystal wears a veil and black gloves most of the time. She is fond of her anonymity and wears them whenever she is out of the Ninja HQ, with the exception of when she is undercover.
Recently, she also had a brief stint in the Knights Guild, earning her spurs and attaining the title of knight.
Like others of her ninja brethren - the female ones anyway - Crystal has a preference for dark or subdued colours, airy wooden rooms, soft pillows, gauzy cloth curtains, and strong personal hygiene.
She also smells very good.
She also moonlights as a ballerina. She's actually quite good.
Character type:
Ninja, Knight
Weapon of Choice:
Whip, double swords, and kunai. For short range and simple tasks, Crystal uses her multiple kunai and occasionally shuriken. She favors the more unconventional whip and also fights proficiently with two light swords or whatever make. However, she has been trained in practically all sorts of weaponry and is thus very versatile.
Crystal has also been trained in hand-to-hand combat and is very agile and flexible. She uses her small size to increase her speed, although it detracts from sheer brute strength.

Magical capabilities:
Crystal actually does have magical capability of some sort in the realm of water and ice, but it is so weak it might as well not be there at all. She generally uses it to cool things down... like her tea.

Personality:
Despite everything, Crystal is a strongly affectionate and very girlish kind of person. She carries out her ninja tasks with a focused kind of determination, but though they frequently involve torture, she never seems to delight in it. She often seems cold to anyone who she sees as unworthy of her respect, or someone whom she knows she isn't really going to see again.
A very long time ago, Crystal castrated Nick in a fit of irritation at his unbridled girl-chasing, and since then it has become her signature act of violence. While not a sadist, she can be very cold and scientific when she has someone at her mercy, and it makes her quite a bit more dangerous, because she can call up all sorts of unpleasant biological knowledge.... all in the name of science. While she DOES have compassion, she also has a very strict adherance to the ninja code of honour... and a very strong stomach to go along with it.
When not required to do anything, she is fond of curling up in a bed full of silks and blankets and cushions and pillows with something to read. She can be absolutely adorable and/or pitiful when she wants something.
Crystal likes being hugged and held and taken care of, even if she can take care of herself.
Tabloid Data:Rivalries:
No real major ones.
Mother:
Leoness, Rider

Father:
Strife, Kit (although he denies it >>)
Siblings:
Very many. Most prominently, younger sister Hu and older brother Stal
Children:
None. Crystal was herself castrated at a rather young age. It was fairly traumatizing, and she seems determined to re-traumatize every male around.
Significant Other:
Single for a long, long time, because she doesn't really show any wish to stay with a partner for more than a day.
Willing to be used in Tabloids?
Definitely.