Post by GLQ on Oct 28, 2018 21:58:31 GMT -5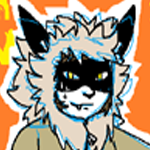 But at the first sight of the owner, something...
different
emerged from inside of them. Something they thought long dormant, long forgotten... But these matters could
never
be fully forgotten.
"Well well, look who it is," the mage smirks. "I guess I was right to give you mercy this year, because it looks like you sabotaged yourself. How the mighty prankster has fallen."
GLQ, my favourite neighbour!! I bet you've been having the most fantastically eerie Halloween night!
Aww, mighty prankster? You're such a flatter-er! I know that my houses are usually hard to beat, but can you believe I almost gave up this year? Fate seemed to be against me, but as I sifted through burnt decorations, melted candy and singed pumpkin... remains... I was just filled with determination! Halloween spirit! It's like my very soul was infused with Halloween itself!
Ah, I'm getting emotional. Here, I want to spread the joy that I feel for Halloween.
Have one of my very own decorations, straight from my award-winning house. *pats the door frame and a poorly-strung spider web flutters to the ground*
You can put it on your own house and feel the Halloween passion every time you see it!
"Ah, yes, you did manage to pull it together and make a house; not doing so would've been... such a shame... I guess you're nothing if not dedicated."
The mage holds the shoe-string of leaves in their hands, and they pin the edges of a leaf between two of their fingers, watching it crumble. "Well, if it's from
your
house, it's certainly award-winning, in one way. Looks like this'll only last for this Halloween. Oh, but don't worry, Killix, it will certainly not be
forgotten.
Certainly not the type of joy you'd give me. I will certainly feel...
a
passion looking at this, for the rest of Halloween.
The mage slings the leaves over their shoulders and walks away, giving an "I'm watching you" gesture.