Post by GLQ on Oct 31, 2018 17:49:25 GMT -5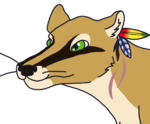 GLQ
As you take the right path, you are relieved to find the darkness dissipating. For a hair of a moment you see what looks like a secretary and a soaking wet ghost in your peripheral vision, but they're gone when you look towards them directly. Curious…
Your path zig-zags for a while, going left, then right, then left again. At this corridor the path branches, going off both to the left and to the right. However, the right-hand fork is short enough you can immediately see it's a dead end, so you take the left path. You follow it straight for a ways, and come to another fork that might as well not be there- you can go straight or turn left, but the straight path ends almost immediately after it starts in another dead end. You turn left.
The path swerves left again, then hooks right, and you find yourself at the first proper fork in a while. You can go left, or right.
The mage seems alarmed by the sudden appearance and disappearance of the visages. They look to Sharpe, who says nothing, but also stared where the mage was staring. Wasn't just them, then. That was weird. Are they not the only ones?
They let it go as they continue. As they walk, however, Sharpe doesn't let another thing go. "I get you like to write jerks. But why did I have to be cut out of the process?"
The mage groans. "I thought we went over this. It was for backstory--"
"Yes, that's a completely justifiable excuse for murder." Sharpe rolls her eyes. "And you keep giving excuses for Espin for that matter! As if he was completely right!"
"I-- What? No--"
"Then why do you write him like you do? 'Oh, that poor murderer, now he doesn't get to go to anymore restaurants because he's on the run for murder and has to get a job that isn't in a lab; oh woe!'"
"Wha- okay, you are completely misinterpreting me now!" the mage rebuffs. "The point isn't to sympathize with him!"
"Why do you keep trying, then?"
"Because I wanted to write a villain who wasn't a cardboard cut-out," the mage starts. "I wanted to show a real villain. At least, one vision of it. They don't sit around and cackle evilly all the time. They don't do evil for the sake of evil. They get jobs. They go out to eat. They live life things. And often, to villains, what they're doing
is
the right thing to do. In their minds, everything checks out, or they feel the ends justify the means, taken to an extreme. Maybe he has some regrets, but ultimately he decides they're not as important as what he wants. He's selfish, in that way. But he doesn't see anything wrong with that, or how he is. Everything always makes sense internally. That's what I wanted to show. It doesn't mean he's right. I wanted to leave that for the reader to sift through. I don't need to explain how murder is wrong. I just wanted to show one way how they can be."
"...Right," Sharpe sighs. "Cool. I still get to be dead because you're so deadset on this 'biased narrator' business."
"Look. I'm sorry. I really do wish I could write more of you. You do deserve to be written about more. I've been thinking about writing your dynamic together while you were working together, because I have the clearest mental image of that, and that's a good place to start. And plus, you're great at being so similar that you grate against each other."
"...Wait,
excuse me,
did you just try to say I'm like--"
"Oh hey, an intersection!"
"Go left."
"Right it is!" The mage carries on to the right.